Monday, July 2nd, 2018 at 9:10 am
The 2018 Podcast Awards are upon us. (For some reason, it always takes me by surprise.) I want to thank this audience for getting me nominated the past 2 years, and it's time to let your voice be heard again by the podcast community.
Click here to go to the Podcast Awards nomination page. You will need to complete the following steps:
* Create a user for nominations. They clear out all login information each year for security reasons, so even if you've created one in the past, you need to do it again.
* As part of the process, it will send you an email with a verification code. You enter that when asked for, and your user will now be verified.
* From there, you can nominate podcasts in some or all of the categories.
For nominating, you can fill in your choices in whatever categories you wish. "Consider This" will be in the Politics & News category.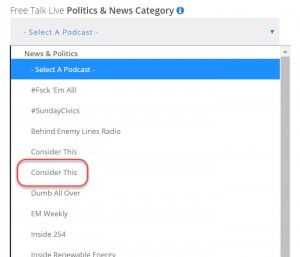 Then don't forget to hit the "Save Nominations!" button at the bottom. At any time during July, you can log back in and nominate in other categories or change existing nominations.
Please read on for some suggestions as to other podcasts to nominate.
Filed under: Admin